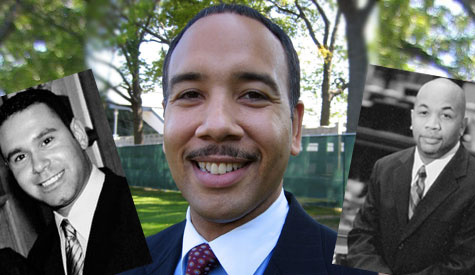 Evening rush-hour riders depart from the screeching number 4 train, slide down two flights of stairs to the street to get a flyer, a handshake and a wide, mustached smile.
"I am running for Bronx borough president in two weeks," Assembly member Ruben Diaz Jr. says, stretching out his hand.
Running might be an overstatement. For Diaz, who practically has a set of keys to borough hall already, walking would be a better characterization.
The seven-term assembly member has only token, Republican opposition in next week's nonpartisan special election to replace former borough president turned-Obama administration official Adolfo Carrión. For such a high profile position, the lack of opposition is relatively unheard of.
Just weeks ago, Bronx Democrats were preparing for a brawl between two political dynasties who have been wrestling over control of the county's Democratic party for months. Since that race has failed to materialize, Bronxites — left with little choice — can now ponder what this means for the county's new and old political guard. Read more..
(No Ratings Yet)

Loading ...

Email This Post